Penetrations in fire rated systems

Penetrations in fire-rated construction can allow spread of fire and smoke from one firecell to another if they are not correctly tested, specified or installed. Penetrations can compromise the Fire Resistance Rating (FRR) of GIB® systems, and in turn the health and safety of building occupants
It is always recommended to resolve and specify fire rated service penetrations in the design office rather than on-site. Combine services as much as possible in 'services highways' or shafts which can themselves be fire rated, eliminating the need for many different and individual penetrations
One-sided penetrations
Below is the list of available details that show the general principle of forming simple penetrations through one side of a GIB® Fire Rated system. Many of the details shown rely on plasterboard baffles to retain the system's FRR. The penetration solutions shown are suitable for a FRR up to (120)/120/120 unless otherwise noted.
Single cable penetration for surface mounted electrical fixtures
Flush boxes in timber and metal stud walls
Larger recesses in timber and metal stud walls
Metal pipe in timber and metal stud walls
Suspended ceiling
Spring or clip fixed light fitting
Frame fixed light fitting
Click here for all the one-sided penetration details.
Note that these details are generic, have been tested by Winstone Wallboards Ltd, and are covered by BRANZ Appraisal No.289 [2018].
Sometimes more 'elegant' proprietary penetration seals exist such as metal switch boxes with intumescent pads. For proprietary systems contact the relevant penetration seal supplier.
Through penetrations
Through penetrations such as metal or plastic pipes, cable trays, ducts, etc. rely on proprietary products and penetration seals. Specific details of systems and required installation details must be obtained from the penetration seal suppliers.
Support penetration seals
Ensure penetration seals are supported by framing around the aperture and not directly by gypsum plasterboard linings. Installation of additional framing members may be required.
Alternatively an additional strip of plasterboard can be installed over the existing lining and supported by adjacent framing members.This option is suitable for penetration seals such as cable bundles, small metal pipes and plastic pipe collars
Where multiple services penetrate a fire-rated wall above ceiling level, it is best practice to install a continuous strip of GIB® plasterboard at that location over the wall lining as illustrated below providing local strengthening.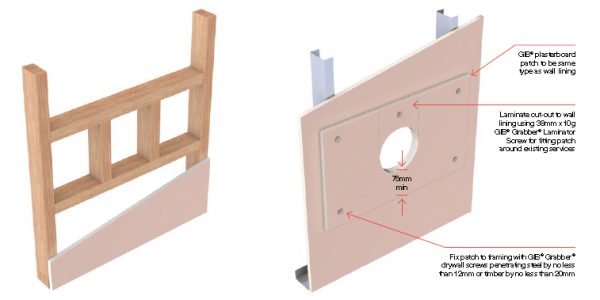 Images sourced from Page 102 of the new GIB® Fire Rated Systems Manual