Articles | Product
Installation of GIB HandiBrac®
Thursday, 29 April 2021
By Cath Montgomery
Developed in conjunction with MiTek®, the GIB HandiBrac® has been designed and tested by Winstone Wallboards for use in GIB EzyBrace® elements that require hold-downs.
The GIB HandiBrac® with BOWMAC® blue head screw bolt is suitable for timber and concrete floors constructed in accordance with NZS 3604:2011.
The use of the GIB HandiBrac® provides quick and easy installation. As the bracket is fitted inside the framing this allows a flush surface for the wall linings. There is no need to check in the framing as is recommended when fitting conventional straps.
The use of the GIB HandiBrac® allows for installation and inspection at any stage prior to fitting internal linings. It is suitable for both new and retrofit construction.
PREPARATION AND INSTALLATION TIPS
Use a 10mm diameter masonry drill bit for a solid concrete substrate and an 8mm diameter drill bit for fixing to a timber sub-floor.
Drill a hole into the base material to depth 8 mm deeper than the required embedment and clean out the hole of dust and debris prior to installation of BOWMAC® screw bolt.
Use a quality hexagonal socket with a ratchet spanner.
During installation debris or dust created by the thread cutting action may cause some resistance to be experienced. This is easily overcome by unscrewing the BOWMAC® screw bolt for one turn or more and then continuing to fix to the full embedment.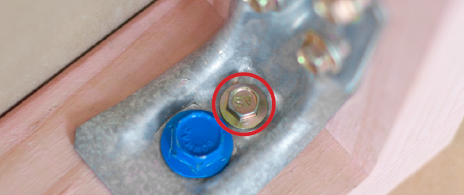 INSTALLATION
01. Correctly position the GIB HandiBrac® to suit the sub floor (refer GIB® Site Guide (2018) pp 63)

02. Install the hex screw (see red circle above) located in the bracket base when it is in the required position.
03. Insert the blue bolt through the GIB HandiBrac® into the hole and begin tightening the bolt by applying forward pressure when engaging the first thread.
04. Additional forward pressure may be required for installation in high strength, dense base materials.
05. Continue tightening the anchor until the head is firmly seated against the GIB HandiBrac® base. In extremely dense material, use of an impact wrench is recommended.
06. Be sure the bolt is at the required embedment depth.
07. Install remaining four screws into the face of the timber stud.
08. The installation is now complete.
For more information refer to the GIB® Site Guide, or call the GIB® Helpline 0800 100 442.