Announcements | Events
Crusaders Kid's Day Knocks It Out Of The Park
Monday, 29 March 2021
By Barbara Tie
One hundred of Christchurch's most enthusiastic rugby fans poured into Rugby Park on March 16, to meet their heroes and pick up a few new ball skills.
The 2021 GIB® Crusaders Kids Day saw the St Albans Crusaders headquarters packed out with children itching to meet their favourite players - and they weren't disappointed! Richie Mo'unga, Sam Whitelock, Sevu Reece, Ethan Blackadder and Quin Strange were out in force, joined on the field by teammates Bryn Hall, Chay Fihaki, Fergus Burke, Tamaiti Williams and Dallas McLeod.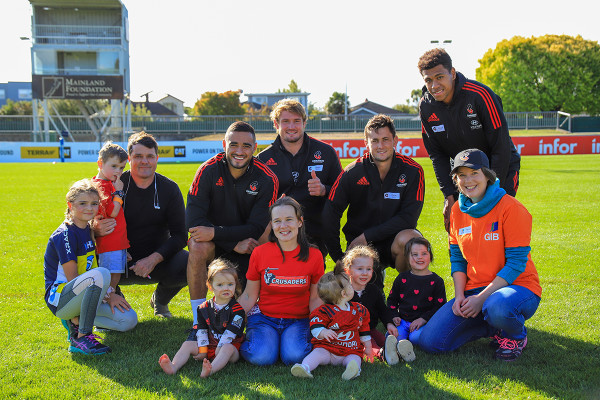 Together the players spent the afternoon teaching the throng of excited kids invaluable rugby skills that will set them up for the coming season. From Rippa Rugby and line out drills, to a tug of war and bouncy castles, there was never a dull moment. Children were split into age groups and parents even got a taste of the action, with the chance to join in on some of the activities. With plenty of food to keep energy levels high (including hot dogs, chips, pizza, sushi and soft served cones), and several signed Crusaders jerseys up for grabs, it's little wonder the day was such a huge success.
Here's to another fantastic event run by the GIB® team. We're already looking forward to the GIB® Crusaders Kids Day 2022!