Announcements | Literature
GIB® Healthcare Design Guide
Tuesday, 3 July 2018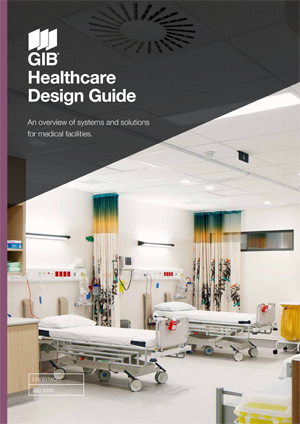 The GIB® Healthcare Design Guide has been launched creating a single document that brings together wall lining systems tailored to healthcare and high level design guidance for wall systems and linings.
Our expertise in the healthcare sector has been well established over the last 90 years and this document also highlights two recent case studies that utilise GIB® systems – Elective Surgery Unit at North Shore Hospital designed by Jasmax and Burwood Hospital in Christchurch designed by Sheppard and Rout, with Jasmax and Klein in association. Dr Jeremy Trevathan from Acoustic Engineering Services also gives his expert take on acoustics in healthcare facilities.
The GIB® Healthcare Design Guide is available for download on the GIB® website. Twenty-two new Noise Control systems have also been added to the GIB® Noise Control Supplement.
The GIB® Healthcare Design Guide covers the following
Impact resistance
Infection and mould resistance
Surface abrasion resistance
Water resistance
Noise control
Reverberation control
Fire control
Seismic design
X-ray protection
Fixtures