Articles | People
Meet Our People - Frank Kang - Not Your Average Tech Support Guy
Tuesday, 28 September 2021
By Karen Richter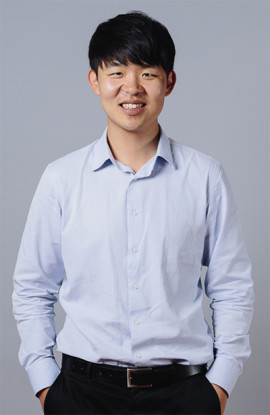 Winstone Wallboards delivers much more than just top notch products and systems.
We offer unrivalled technical expertise and support from a team who are passionate, dedicated, and experts in their field.
Take Technical Support and Development Engineer Frank Kang for example. In the six years he's been at Winstone Wallboards, he has helped a lot of customers, honed his expertise in specialist engineering areas like bracing and noise control - and gained a Master of Engineering in Fire Engineering. It's fair to say he knows his stuff!
We catch up with Frank to find out more about what he does, and why he does it.
Frank, tell us a bit about yourself.
I moved to New Zealand from South Korea with my family when I was 13 and attended Westlake Boys High School in Auckland. My real name is Ho-Hyung, but when we came here my parents decided to give me an English name. They chose 'Frank' because they wanted me to always speak frankly, be truthful and not tell lies! I got married in 2015 – the same year I started at Winstone Wallboards – and have one daughter and another baby on the way.
What about your professional background?
I studied at the University of Auckland, completing my Bachelor of Civil Engineering in 2010. My first job out of uni was based in Auckland, as a field engineer for Hilti. I relocated to Christchurch during my time there and provided technical support and training on post-installed anchors and fire stopping products to customers.
Directly prior to joining Winstone Wallboards I was a graduate structural engineer for structural design consultancy HFC Group. My job entailed everything from structural design of residential foundation solutions (including soil testing and investigation) to structural assessment on earthquake damaged houses and construction monitoring.
What appealed to you about joining Winstone Wallboards?
I was attracted by the reputation of the technical team and the wider business. GIB® has great standing and respect in the market – it's an iconic Kiwi brand to work for! I also liked the research element of the role, and the chance to gain exposure in specialised areas of engineering such as bracing, fire and noise.
What do you find most rewarding about your job?
I particularly enjoy providing technical support to our internal and external customers, and servicing the construction industry. There's nothing more satisfying than troubleshooting and problem solving! Have there been any surprises? When I joined the team, I didn't realise that I'd have the opportunity to expand my knowledge in the way that I have.
Thanks to the support of the Winstone Wallboards and Fletcher Education Fund, I've been able to study towards a Master of Engineering in Fire Engineering, graduating earlier this year. My thesis zeroed in on plasterboard fire rated systems, and understanding the performance of timber-frame, loadbearing plasterboard walls subjected to two-sided fire exposure.
How does your research benefit Winstone Wallboards customers?
My thesis is extremely relevant to our GIB® plasterboard fire rated system and at the moment I'm working on a GIB® publication which outlines all of my findings. We often receive inquiries from designers, specifiers and fire engineers wanting to grasp the specifics of GIB® fire rated systems. My studies have helped me better understand their needs and become more confident when providing technical engineering support.
We have a really experienced team at Winstone Wallboards and we're always willing to assist with inquiries.